THE AREA

KALAMITSI / SITHONIA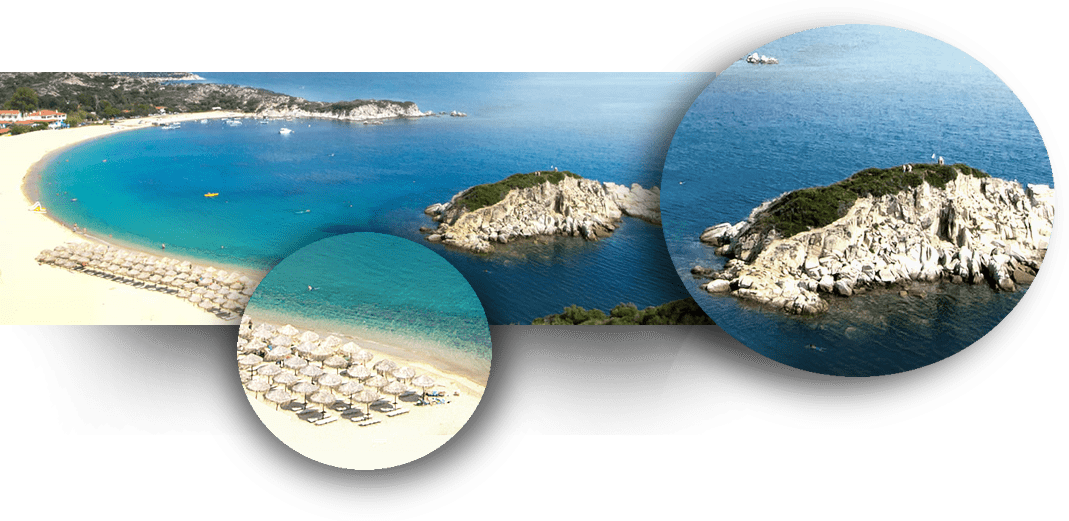 The picturesque shore of Kalamitsi with its crystal clear blue waters, golden sand and the small islet, is rightly considered one of the hidden gems of Greece. The beach is organized with sun beds at several points across its length. At Kalamitsi you will find restaurants, cafes and grocery stores.
The hills, covered with holly, thyme and oregano, are filled with colorful flowers during the year, stimulating the senses with scents and color. The serene landscape that is characteristic of this place makes your stay, a journey full of satisfaction and a unique experiences.
In small distances from Kalamitsi you will find many sandy beaches and coves. In the area surrounding you can visit Marmara, the port of Porto Koufo, Sykia and Sarti for a night out.
The area offers activities for diving and water sports, boat rental and sailing. You can enjoy a ride on horseback or a mountain walk.
The area is not only famous for the sea and the beautiful beaches but also for the beautiful mountain of Dragounteli, which has many paths and panoramic spots from where you can observe the three peninsulas. When you are in some of the mountain points you got the impression that the myth of the Titans who were throwing stones from one peninsula to the other, comes true. It is worth noting that in the forests of the mountain germinates the Itamos, a protected tree species aged 2000 years.
Throughout the year you will have the opportunity to get involved with various activities such as rides with the bikes we provide you, hiking, sightseeing and fishing.